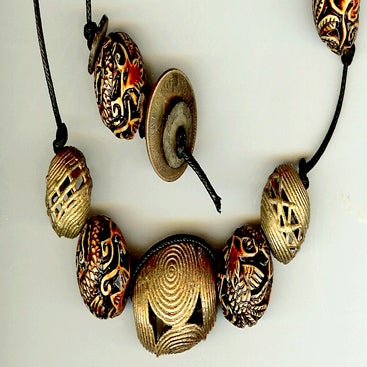 I think every woman knows how much fun it is to change your look, create a mood, or add some drama to your wardrobe and to your life with jewelry. A pair of earrings can make the difference between feeling blah and feeling "put together" and smiling. You know what I'm talking about. Never underestimate the power of a necklace, bracelet or a pair of earrings! Even when you are wearing sweats, T-shirts and leggings.
For me even more fun than wearing it, is to create jewelry that makes women light up from the inside and radiate it out. It's indescribable to see a woman feel beautiful, strong, soft, powerful, serene, joyful when she puts on a piece of my Monika Astara jewelry.
Every bead, every color, shape, texture has a frequency. Selecting them and stringing them together intuitively is like creating a symphony that creates and affects moods.

I love getting beads and artifacts from all over the world and turning them into statement necklaces, earrings and bracelets. Many are bold and artsy or have tribal and ethnic influences. They make you feel strong, vibrant, passionate, grounded.
Others are more casually elegant and can be simple or dainty for everyday wear or special occasions. They feel serene, soft, playful, quietly strong, fun, delicate, mischievous, alive.
Yes! The impact of clothes and jewelry on how we feel is real!
A simple thing like the right-for-you necklace or outfit can literally transform a life. I've seen it thousands of times when I had my boutique. Women called it "the transformation place - where you fall in love with yourself."

During that time I have heard timid women roar and laughing out loud with delight when they put on a necklace that made them feel strong and safe.
And I have seen tough women become soft and glowing when they put on the right necklace that touched their heart.
If you want to make your mother, friend, daughter, grandmother, mother in-law or wife happy, give them a Monika Astara necklace, earrings or bracelet - and watch them light up. And remember yourself! You deserve it first!
If you are not sure what to get, call me, Monika, at (512-470 2553) or contact us.
I'd be delighted to help you choose the necklace, earrings or bracelet that will do the light-you-up magic. Or design one especially for you.
I've also custom made a number of necklaces for men.

Want to make your own jewelry - and have lots of joy doing it?
Let me know - I'll send you details on the upcoming "Jewelry Delight" Course.